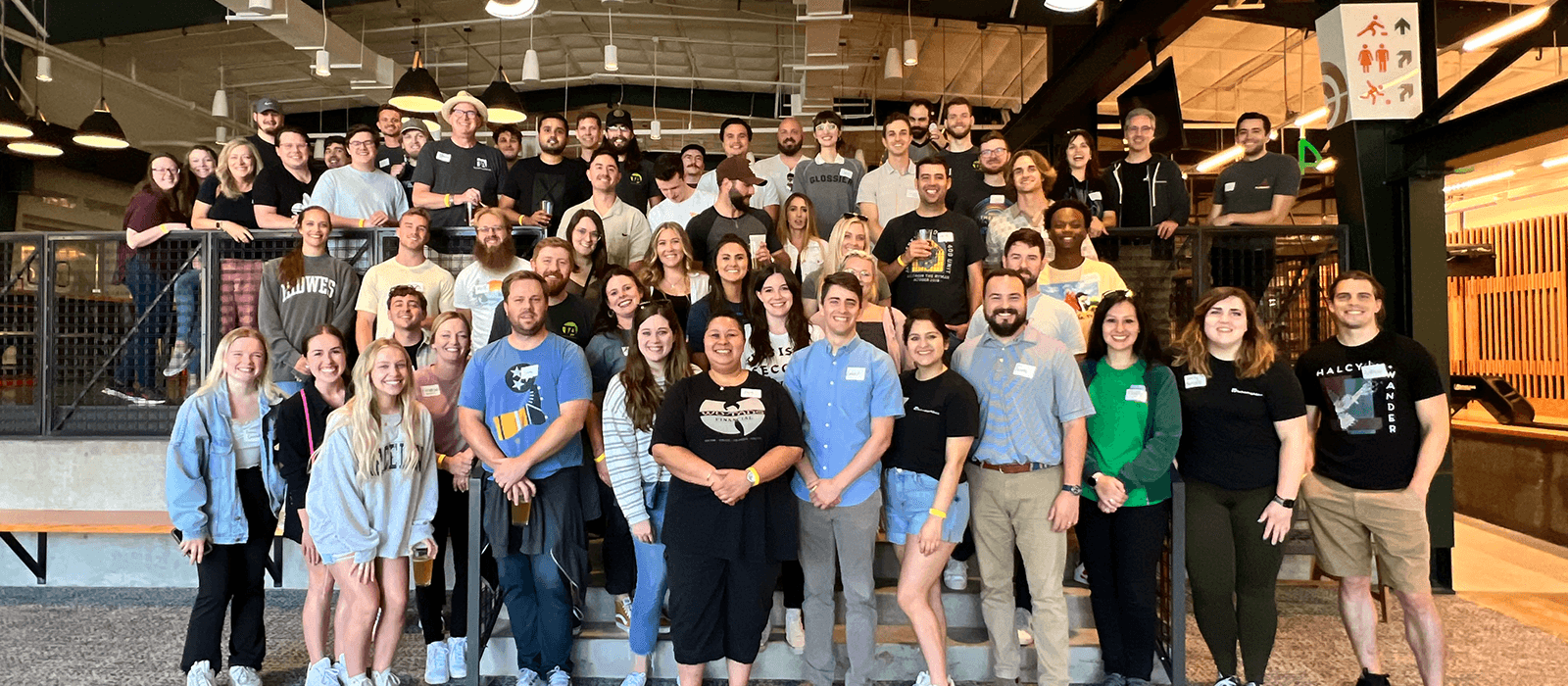 Careers at TA
TechnologyAdvice runs on hard work, innovative ideas, and continual growth.
At TechnologyAdvice, you'll work alongside a diverse group of passionate individuals who love growing as professionals and learning new things. No two days are exactly the same here, and you'll face opportunities to expand your skill set, step outside of your comfort zone, and contribute to the best group you'll ever work with.
We value transparency, have a strong alignment with our Core Values and mission, and genuinely care about the success and happiness of our teammates and community. Welcome to a team, vibe, culture—whatever you call it—that will help you to be the best version of yourself and give you the freedom to make a genuine long-lasting impact.
Our differences make us stronger.
We're fostering a diverse, equitable, and inclusive culture where people feel safe being themselves.
At TechnologyAdvice, purposeful action and measurable results drive our DE&I efforts. We believe a diverse and inclusive workplace is more innovative, productive, and happy, and we're fostering a community that represents the global customers we serve. This is a big idea, but big ideas don't scare us.
While we aren't yet where we want to be, we hope you'll join us in building a space that welcomes everyone and celebrates what makes us unique.
Perks and Benefits
Health & Wellness
We want to support all aspects of your health and wellbeing. Free access to mental health resources like Headspace, fitness reimbursements and on-demand group workouts, comprehensive medical, dental, and vision plans, and much more are all things you can expect from TA in supporting you to be your best self!
Life Outside of Work
Always dreamed about climbing Machu Picchu or learning how to code? With TA's bucket list benefit, we help you accomplish a new personal goal every work anniversary you celebrate with us. Our benefits are aimed to help you grow personally and professionally. Enjoy generous and flexible paid time off, free access to a team of financial advisors, and a company-matched 401k plan for our US team.
Crave Knowledge
Every day brings the opportunity to learn something new and we offer countless ways for our team to grow, learn, and serve others.
Bi-weekly mentorship and development meetings with your manager, reimbursements for personal and professional development books read, a library of books at your finger tips, company-wide book clubs, a monthly speakers series, DE&I education, company-sponsored certifications and leadership academies are just a few of the many ways you can expand your knowledge and skills at TA.
Giving Back
Through longstanding and growing partnerships with community organizations, we're working towards a better world together. Our employees donate their time multiple days per year to make a long-lasting impact in the communities we live and work in. As a company, we consistently contribute monetarily to charitable organizations that align with our core purpose.
Collaborate and Celebrate
Daily and weekly departmental huddles keep us connected near and far, and allow us to effectively communicate throughout the organization – all in support of our core value of Transparency. Our team members span across the globe, but we love to come together for quarterly events like speed meetings, virtual outings, #slack chatter, and even in-person events for teams that are local. No matter where you're located, you can expect a warm and inclusive culture full of fun for all interests.
The Work
It's great to be part of a fun company, but we also enjoy doing work that matters. Whether you're in marketing, sales, accounting, or engineering, you will see the work you do contribute to real results. We're disrupting an industry with innovative technology, a top-ranked client experience, and truly helping companies find their own success through the resources they implement.
Intentional growth is the name of the game at TA – for our company and for our team members. The decisions you make and the hours you put in have a real tangle impact for our team, our clients, and our future. We only hire the best and brightest because we know that every single person has a hand in making TechnologyAdvice a success. And we know that the best people like working with other smart, capable, and driven individuals. If that's you, what are you waiting for? Apply to work with us today!